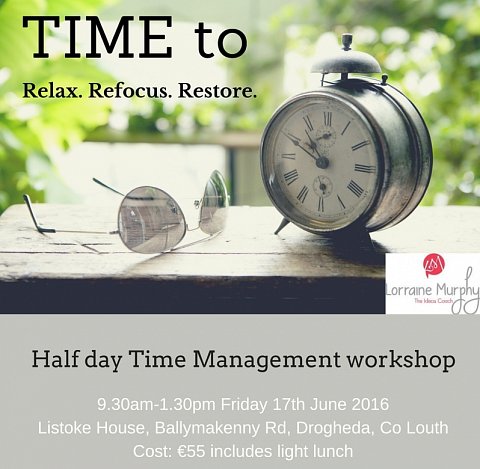 TIME

to Relax. Refocus. Restore.

Do you feel like you're being ruled by the clock and it's time to take a breather? Sometimes it really can feel that all the demands on our time are causing us to feel overwhelmed and stressed. Not to mention leaving no time for our own personal "me time". More often than not we find ourselves in this modus operandi having no idea how we arrived there, and more dangerously no idea of how to stop.

This half-day workshop is aimed at helping you take back control of your time, whether it be at home or in the workplace. Together we will explore simple yet effective time management skills that will help you make the best use of your time and even learn to say "NO"!

What you will learn over this half day workshop:
- Prioritise your time
- Make clear and effective decisions
- Manage stress in your day
- Say 'no' guilt free.

We will also explore mindfulness based stress management techniques which you can use to help reduce the feelings of stress and anxiety, leaving you better able to cope with the tasks ahead.

The workshop is set in the relaxing surroundings of Listoke House, Ballymakenny Rd, Drogheda, Co Louth. You will enjoy a light lunch plus time to relax in the beautiful gardens of Listoke House.

To book your place please visit https://www.eventbrite.com/e/time-management-workshop-tickets-25675926387. If you have any questions call me on +353 87 254 9434.